By Nick Harris
SJA Internet Sports Writer of the Year
2 April 2012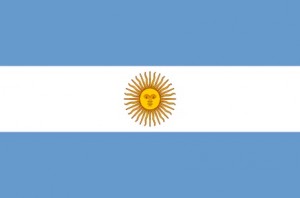 Today marks the 30th anniversary of the start of the Falklands War.
As Sportingintelligence contributor Matthew Barrett, a specialist on the subject of sport and war, details on his own blog today, tensions between Britain and Argentina continue to simmer, with sporting repercussions.
Earlier this year, for example, the 2012 edition of the Argentine First Division was officially named as the Crucero General Belgrano Primera Division, in honour of the Belgrano.
The Falklands conflict had knock-on effects around the world, including in English football, home at the time to Tottenham's Ossie Ardiles and Ricky Villa, stars of Argentina's 1978 World Cup win.
To mark the anniversary of a remarkable time for them, Spurs and the English game, we reproduce here extracts from a book about the history of foreign players in England in which part of their story is told.
 ———- 0 ———-
.
.
World Cup final
Sunday, 25 June 1978 Monumental, Buenos Aires
Argentina (1) 3 Netherlands (0) 1 (after extra time). Attendance: 76,609
.
Keith Burkinshaw, the manager of Tottenham Hotspur, was sitting in his office at White Hart Lane a few days after the 1978 World Cup final. He had less than two months to prepare for the start of the new season. Spurs were returning to the First Division after a year away.
Bill Nicholson, Burkinshaw's most eminent predecessor, the man who'd overseen Spurs's glory days of the early 1960s, had joined him for a chat. There was plenty to discuss.
While they were talking, the phone rang. Nicholson answered it.
"Hello Bill, it's Harry Haslam."
Haslam, a friend of Burkinshaw, was the manager of Sheffield United.
"Hello Harry, what can we do for you?" asked Nicholson.
"Would Keith be interested in signing Osvaldo Ardiles?" said Haslam.
Nicholson turned around to Burkinshaw.
"Harry Haslam's on the phone and he wants to know if you're interested in signing Osvaldo Ardiles," he said.
"Is he pulling your leg or what?" said Burkinshaw.
.
 ———- 0 ———-
.
Harry Haslam's interest in South Americans stemmed from contacts built via one of his senior coaching staff, Oscar Arce, an Argentinian. Burkinshaw knew this, and that Haslam already had a rudimentary scouting network in place across in Argentina.
He was still a little taken aback when he disembarked in Buenos Aires on Saturday 8 July 1978 to be met off the plane by Antonio Rattin.
Rattin captained Argentina in the most notorious game of the 1966 World Cup finals, the ill-tempered quarter-final against England. During the first half hour of the game, which England won 1–0, Rattin committed a series of fouls, contested almost every decision and spat in front of the referee. He was shown the red card after 36 minutes but refused to leave the pitch. There was uproar as he stood his ground and it took eight minutes to persuade him to go. He tried to sit on the touchline and was eventually escorted away by the police.
Geoff Hurst, England's goalscorer that day, talked afterwards of feeling as though he would be mugged at any moment. There were high tackles, kicking, tugging and poking from both sides. Nobby Stiles memorably said: "Apart from the violence, I came through with no problems." Alf Ramsey, England's manager, described the Argentineans as "animals". The infamy of Rattin and his team was sealed.
"But Rattin was a tremendous guy," Burkinshaw said of their meeting in 1978. "We were there for four or five days and he was a great fella. He escorted us everywhere, he made all the introductions, he was wonderful."
.
 ———- 0 ———-
.
Burkinshaw met Ardiles at a Buenos Aires hotel within hours of arriving in Argentina. Considering the impact the deal would have, it was concluded more smoothly than Burkinshaw could ever have anticipated.
"I asked Ossie if he'd be interested in signing for Tottenham. He said yes, but he'd have to come back with his wife, Sylvia. Twenty minutes into that second meeting he said 'Give me the form and I'll sign it'. Then he said 'Would you like to sign Ricky Villa?'.
"I rang Tottenham. The chairman [Sidney Wale] told me to go ahead if that's what I wanted. I met Ricky the next day and five minutes later he was a Tottenham player."
News of the signings reached England on Monday 10 July. 'Sensational' appeared in numerous headlines. Bookmakers responded instantly by cutting Tottenham's odds of winning the First Division from 66–1 to 25–1.
Sidney Wale went public on the reasons for his purchases: "The [financial] situation is certainly right for signing players out there," he said. The pair cost around £750,000 between them. Ardiles, already the holder of more than 40 caps, cost £325,000 from Huracan. Villa, despite having less international experience, cost marginally more from Racing Club.
.
 ———- 0 ———-
.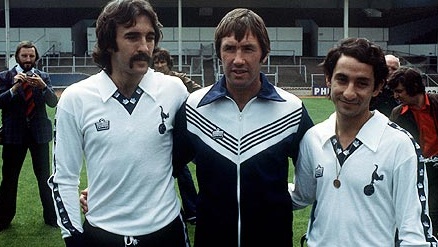 Interviewed for The Foreign Revolution, Ardiles said they signed for Spurs because Tottenham were the first European club to make an offer.  "It had never crossed my mind for a second that I might go to England," he said. "I'd thought about maybe Spain, Italy or even France, people had talked about this around the World Cup. But when we got home there was nothing whatsoever. The first person who came out to Argentina to see us was Keith Burkinshaw. Suddenly he was there. He wanted me and Ricky, he put the offer on the table. The rest is history."
Neither player, on arrival, knew much about the English game beyond some basic knowledge of the international team. They knew most about Kevin Keegan, who was playing in Germany for SV Hamburg. Otherwise they could name Bobby Charlton, Bobby Moore and Gordon Banks, all from the 1966 World Cup team, as examples of prominent English players.
The Argentinians' arrival received plenty of positive coverage in the newspapers on Tuesday 18 July. It was rare, at the time, for such news to spread beyond the ghetto of the sports pages but the pair soon found themselves on the news and features pages. There they shared space with other items of international interest, including the countdown to the birth of the world's first test-tube baby, which was a week away.
There was also news the 60th birthday of Nelson Mandela, who'd spent a third of his life in prison. Mandela's wife, Winnie, said that her husband, locked away on Robben Island, was inspired by the hope that he might live to see black South Africans free from apartheid. It seemed an unlikely aim.
.
 ———- 0 ———-
 .
Impact, honours and legacy are the hallmarks of any successful career. Ossie Ardiles and Ricky Villa provided White Hart Lane with all three during playing tenures that lasted a decade and five years respectively.
They also brought glamour, a convergence of cultures, and drama. This was never more intense than in the successful FA Cup runs of 1981 and 1982. In the first they both featured to the point of memorable triumph. In the second Spurs ultimately retained the trophy without them in the wake of the Falklands War.
Ardiles's attachment to his adopted country made the fallout from the Falklands War ever more painful. Keith Burkinshaw recalled how he first heard news of the conflict, on the morning of 3 April 1982.
"We were due to play in the FA Cup semi-final against Leicester at Villa Park that day. When everyone went to bed in the team hotel the night before everything was fine. The next morning the two lads told me that our countries were at war. They'd been up literally all night talking to people back home. They'd hardly slept. I had to make a decision whether or not to play them."
In the event, only Ardiles was picked to start and Spurs won 2–0. Burkinshaw recalled that Ardiles got "some terrible stick" from the crowd.
In the aftermath of the game there was intense media debate about whether or not it was right and proper for the Argentinians to continue playing for Tottenham while Britain was at war with their country.
Matters were further complicated because Ardiles was due to return to Argentina to begin pre-World Cup training with his international side. When he left for Buenos Aires after the FA Cup semi-final, his departure was taken in some quarters as a political statement. Burkinshaw insists it was a pre-arranged move that had nothing to do with the Falklands.
"Before the semi-final, I'd already agreed that he could go home to prepare for the World Cup in Spain. The press said at the time it was because of the war. That was wrong. The decision had been made before the war even started."
Villa, who was not involved in the World Cup, stayed in England and played on during the war, although he removed himself from contention from the FA Cup final, played on 22 May while the hostilities were still raging. Spurs beat Queens Park Rangers 1–0 without him.
.
 ———- 0 ———-
.
In early June, Ardiles was back in Europe, although not in England. The doubts still lingered about his future and many observers felt he would never play for Spurs again. Burkinshaw travelled to the Continent to meet him at the training camp where Argentina were preparing for their opening World Cup match on 13 June.
Ardiles told him: "It will not be possible for me to play for Tottenham again. We're at war."
It was an awkward meeting. Barely a month had passed since almost 400 Argentinian crew aboard the cruiser General Belgrano had been killed as their ship was torpedoed by the British outside the war zone, while sailing away from the islands.
More recently, the battle of Goose Green had brought multiple deaths and injuries on both sides and reports of bloody hand-to-hand bayonet combat were filtering out. The Argentinians were also stepping up their air attacks on British landing craft, a policy that claimed dozens of lives.
"We're winning," Ardiles told an incredulous Burkinshaw.
"I don't think you are," Burkinshaw replied.
"I don't want to come back," Ardiles said.
"Well I'm not going to sell you," said Burkinshaw. "You can go somewhere on loan for 12 months but I'm not letting you go."
Burkinshaw recalled: "It seemed obvious that he'd been given all kinds of false information back home. The propaganda in Argentina had been drilled into him all the time. And then the war was all over a few days after that. In the end we agreed a loan deal to let him go to Paris St Germain but almost as soon as he got there he was on the phone saying 'Come and get me'."
Ardiles recalls the period as "an incredibly difficult time where it was hard to have an everyday life". He said: "Tottenham never wanted me to leave but I thought returning to England would be a bad thing to do. My wife wanted to come back, Keith wanted me to come back. But I thought the best thing to do was leave. The scars were open, people had lost sons on both sides. We compromised and I went to France. I don't regret going and I don't regret coming back."
.
 ———- 0 ———-
.
He returned to Tottenham in January 1983 and in his first match, away at Luton, he received vocal abuse from the home supporters. There was also criticism from Argentina.
Within a couple of months, by early March, Ricky Villa had decided to leave England. Ardiles remained, and went on to play for Spurs until March 1988, after which he had a brief playing spells with Blackburn and QPR before embarking on a globe-trotting a career in management.
He said the highlight of his time at Spurs – and the second best moment of his playing career, after the 1978 World Cup – was the 1981 FA Cup win. Although Spurs won the UEFA Cup in 1984, Ardiles only appeared as a substitute in one leg of the final against Anderlecht.
And in any case, he says that the FA Cup, in 1981 at least, was "THE cup in the world. People always say it, but then it was really true. The FA Cup was better to win than the UEFA Cup. Now, it's unequivocally not. The European Champions' League is the cup to win. But then the FA Cup was the most prestigious."
Aside from the high point of 1981 and the low of the war, Ardiles picked out a third-round FA Cup replay win over Manchester United in 1980 as a particularly memorable moment. Many fans remember it best as the time when Glenn Hoddle was drafted in as an emergency goalkeeper in the second half. Ardiles remembers it for scoring the only and decisive extra-time goal, in the 118th minute.
Away from the pitch, he endeared himself to supporters with his polite and gentle manner and never flinched from extracurricular activity that might amuse supporters.
No student of football songs is ever likely to forget that the 1981 FA Cup final was commemorated in verse beforehand in the genre 'classic', Ossie's Dream (Spurs are on their way to Wembley), sung by the squad and accompanied by Chas n' Dave.
No foreign player, before or since, has been honoured in such a way. The song began with the lines 'Ossie's going to Wembley/His knees have gone all trembly' and contained the following verse, in which Ardiles memorably sang the final – heavily accented – line:
In our ranks there's Ossie Ardiles
He's had a dream for a year or two
That one day he's gonna play at Wembley
Now his dream is coming true
Ossie we're gonna be behind you
All together, man for man
We know you're gonna play a blinder
In the cup for Tott-ing-ham!
In retrospect, the verse that included the lines 'We are the boys from Keithy's army/And we're marching off to war/We're sending our soldiers to Wembley/Under General Burkinshaw' was never one that Ardiles would be singing a year later, but it seemed light enough at the time.
War was a recurring theme for Ardiles in 1981. It was also the year he starred in John Huston's cult football movie, Escape To Victory, with such venerable acting talent as Michael Caine and Sylvester Stallone and alongside footballers including Pele, Bobby Moore, Mike Summerbee, Kazimierz Deyna and what seemed like half of Ipswich Town.
.
Follow SPORTINGINTELLIGENCE on Twitter
Sportingintelligence home page
.
Nick Harris's latest book, A Man In A Hurry, co-written with Helen Harris and Paul Marshall, is published by De Coubertin Books. It can be downloaded now for Kindle or as an eBook (link here), and is available from the publisher (link) and via Amazon (link) and is on sale in the best book shops from next week.