By Nick Harris
SJA Internet Sports Writer of the Year
31 July 2011
From badly behaved millionaire players to corruption in the corridors of power, football has attracted headlines for all the wrong reasons in recent years.
But next Saturday, 6 August, a small team owned by its fans in south London will embark on a new life in the Football League with the intention of proving that clubs can still be ethical, solvent – and successful.
AFC Wimbledon were formed nine years ago by supporters bitterly angry that a Football Association commission were allowing the Wimbledon of Vinnie Jones, Dennis Wise and Joe Kinnear – the Wimbledon of 1988 glory and Crazy Gang antics – to be treated like a franchise and uprooted 60 miles away to Milton Keynes, where they were rebranded as MK Dons.
Infamously the FA commission passed judgment on the views of supporters who wanted Wimbledon to remain close to their roots, saying that idea was 'not in the wider interests of football.'
You can buy that slogan on T-shirts now. Ironically.
The fans believed their club had been stolen.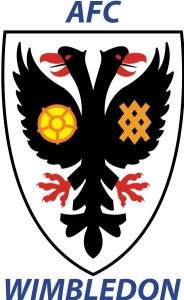 Nine years and five promotions later, AFC Wimbledon have made it back into the Football League, where their first match in League Two will be at home to Bristol Rovers in Sky's live lunchtime match next Saturday.
And according to chief executive Erik Samuelson, they have done it while living up to a set of core principles, on and off the pitch.
Samuelson says: 'We've been called a romantic club and my reaction was isn't it about time there was some romance in football?
'We're idealistic, but what's the matter with some ideals with all that's going on around us? Let's live by them and see how far we can get.'
Those ideals come into play every time the club recruits a player.
'Anyone who doesn't fit the culture is gone pretty quickly,' says Samuelson. 'Our team now are all decent, respectable, worthy players who are good ambassadors and who play the right way and behave the right way. All of them. They're good people and I'm proud that they play for this club.
'One of the first things Terry Brown, our manager, tells new players is, "We do things properly here. There are no brown envelopes, no expenses, no secret payments or anything else you might have come across at other points in your career. If you don't do things properly, you won't fit in here".
'I know Terry's speech so well I could do it for him! He tells them, "This is how we behave. This is how we play football. This club is completely honest. And this club is solvent and you'll get your wages on payday. And there's no chance of us going under because we're solvent and we're prudent".
'Terry has the highest ethical standards. He's a decent man. He really does get what we're about and what we want to do.'
It is ironic in the light of Samuelson's ideals that AFC Wimbledon's first-ever goal, nine years ago, was scored by one Glenn Mulcaire.
.

A contemporary match report even suggested that Mulcaire might become a household name. He has – although not as a footballer.
But the man at the centre of the News of the World telephone hacking affair did not stay with AFC Wimbledon for long and the club have since traversed the Combined Counties League, the Ryman League and the various levels of the Conference before a dramatic play-off final win against Luton on penalties in May sealed their place in League Two.
A fan-made video of the day's highlights is linked here. (Note the chant at  8min & 1sec into the film. 'It only took nine years…')
AFC Wimbledon start the new Football League campaign just one division below MK Dons, and for the match against Rovers next weekend will play in a white shirt that replicates the strip worn by Wimbledon on their League debut first time around in 1977.
Samuelson, 63, is a former partner with PricewaterhouseCoopers, from where he retired in 2003. A specialist in corporate governance, he was AFC Wimbledon's finance director in the early years and has been chief executive since 2006.
He says he and the 'hundreds of people who have given large chunks of their lives' to the club over the past nine years.
I ask him to name a few key people and he says it's impossible to name just a few people because so many have given so much for so long. But he does name key founders of the club including Marc Jones (mentioned in this piece), Kris Stewart, Ivor Heller and Trevor Williams; and the club's four managers Terry Eames, Nicky English, Dave Anderson and Terry Brown; and Roger Dennis, a stalwart of the Junior Dons; and Mags Hutchinson, in charge of kit for 23 teams from under-8s to the Football League; and Neil Messinbird, who has spent so much time organising volunteers and tickets and much else … and on and on the list goes including players who've made significant contributions.
The AFC Wimbledon collective has always had three key objectives, Samuelson says. One was a fan-owned club, another a place in the Football League.
Both have been achieved and Samuelson says: 'I honestly don't think it will dawn on me what we've done until the teams walk out. I might just burst with pride. I'm getting quite emotional just thinking about it now.'
His third objective is to take the club 'home', to a new stadium somewhere in Wimbledon. Since their first season in 2002-03, they have been based at the Kingsmeadow Stadium, near Kingston upon Thames. They rented for a year, then bought the ground for £2.4million and spent another £1m on improvements.
They have spent a further £178,000 this summer to make it ready for League football, on improvements ranging from a £20,000 barrier down one side of the pitch to a new shower in the referee's room. CCTV and a security monitoring room have been installed.
Another £800,000 must be spent in the next three years to add 900 more seats under cover to meet League requirements for 2,000 seats.
The total capacity will be up to 5,200 at some point this season, and will be 4,600 for the first game: improvements are ongoing.
Last season the average gate was almost 3,500. Samuelson's 'very prudent' budget is based on an average of 3,600 this season. Already the club has sold record numbers of season tickets – almost 2,700 – so the target figures are almost certain to be met.
The club's total mortgage despite all its outlay on infrastructure is £1m, of which £300,000 is owed to fans, much of it interest-free, and the rest to Barclays – happy to have a football club client with no financial worries.
The cost of player wages will double from last season to almost £1m for the whole squad of 22. They will earn an average £45,000 each for the coming season.
The average wage bill in League Two, anecdotally, is £1.2m per club, though with huge variations. Some clubs pay double or more, and AFC Wimbledon's fellow newcomers to the Football League, Crawley, are thought to be in the latter bracket.
Crawley were the big spenders of the non-league thanks to opaque funding in recent times. AFC Wimbledon's income and expenditure is much more transparent.
'I don't publish the precise (wage) budget details but I do say for all our players combined for the year that it's less than Yaya Toure earns in four weeks at Manchester City,' says Samuelson.
The increase in wages is covered by the rise in central income from the League. In the Conference, clubs get £60,000 of central funding per season. In League Two, it is around 10 times that sum.
'You can see where the money has come from,' says Samuelson. 'Obviously the players expect more to play in the Football League and we want them to stay so we make sure the pay is fair. Not ludicrous, but fair.'
Fair. It is a recurrent theme from the top to the bottom. The club is ultimately owned by the fans through the Dons Trust. Some 2,000 of them pay a £25 yearly membership in exchange for voting rights.
The Trust, in turn, control the club and a separate company that bought and upgraded the stadium. Samuelson is frank about the need and desire to move – at some point. They have been happy at Kingsmeadow but he says: 'It isn't what we want or what we need.'
Comparing the club to Arsenal, he adds: 'We both believe in financial viability, and they've also build a stadium on a site in a regeneration area, which we'd like to.' Arsenal's Emirates project took nine years from conception to completion.
Samuelson hopes his club could move to a site 'in or near Wimbledon' within seven years and it is in active talks with Merton Council. Two sites have been identified and one looks a likely location for an 'enabling development', including a new 12,000-seat stadium, housing, retail and light industrial buildings which could generate enough cash through their ultimate sale to pay for the stadium which would come in at around £30m.
'We've had five promotions in nine years and I keep reminding the manager that another three in the next four would put us in the Premier League,' says Samuelson, immediately adding that, realistically, League One looks 'tenable' in the next few years 'and then we'll see'.
He says that a first ever meeting with MK Dons looks inevitable in the not too distant future, either in one of the cups or in the League. 'You'd think it's going to happen quite soon,' he says.
'My ambition is to have our own stadium in Wimbledon and when we do that to ring them up and ask, "Why did you leave? We're just a bunch of fans who built a club and got in the League from nowhere. We built a stadium from nothing and you've pirated our club into Buckinghamshire. Why did you do it?" I've no idea what they'd say.
'I'd just like to make the point that there was no need to do what they did. I'm still angry about it. If we play them, we will be professional and do things to the best of our ability.
'But I don't want to play them. I think it will be horrible and if it's at their place, I won't go. I think our fans would be unhappy about it, too, because it would dredge up all the tawdry history.
'All the focus would be on where they came from, how it was done, how the overwhelming majority of fans thought it was awful. I hope the day that we play them is delayed for as long as possible.'
AFC Wimbledon, in any case, have their own story to keep telling. In their own way. The right way.
.
An abbreviated version of this feature appeared in the Mail on Sunday today, linked here.
.