Global attendances
.
Best attended domestic sports leagues in the world
(By average attendance per game)
.
Most recent update: 5 JANUARY 2017
The NFL remains the best attended professional domestic sports league in the world at the end of the 2016-17 regular season, with almost 17.8m fans attending 256 games at an average of 69,487 per game. See table below for more details.
The best attended league overall remains MLB baseball with more than 73m tickets sold in 2016.
The best attended league in football – the world's most popular sport, known better as soccer in some places – is the Premier League in England (and Wales) by total attendance, and Germany's Bundesliga by average attendance per game.
Two baseball leagues make the top 10 in average attendance, in MLB and Japan's NPB, while one cricket league makes the top 10 in Australia's Big Bash. India's IPL has featured in this list in previous years and might do again but for now their attendance numbers are considered too unreliable to include. The IPL's organisers and franchises could start to remedy this by publishing official (and ideally some form of audited) numbers.
The best paid sports leagues in the world include many of the leagues below. See here for details. And get a free report on global sports salaries here.
What about small nations? (And by small, we mean smaller even that Australia, which manages to feature two leagues despite a population under 25 million). Well, an earlier article considering only the world's most popular sport (football / soccer) considered that here, where attendance per capita was the specific metric examined.
——
For older related news stories, click here (for 4 January 2013 story); click here (for 5 February 2012 story); click here (for 8 Feb 2011 story), click here (for 31 May 2010 story), click here (for 21 April story) click here (20 April) or click here (January).
.
NB: Professional leagues (see footnotes re: amateur leagues, or click here)
.
NB: amateur leagues – there are some with higher average attendances than the leagues above, notably and most remarkably in US college football, where, for example, within the 2010 NCCA Division 1 FBS Conference, the 12-team Southeastern Conference (league) averaged 76,719 fans per game, and the Big Ten averaged 72,106, both more than the NFL. Annual NCCA football attendances are downloadable in PDF format, year by year from 1998, by clicking on this sentence. There is also a sportingintelligence feature on NCCA football attendances; click on this sentence to link.
.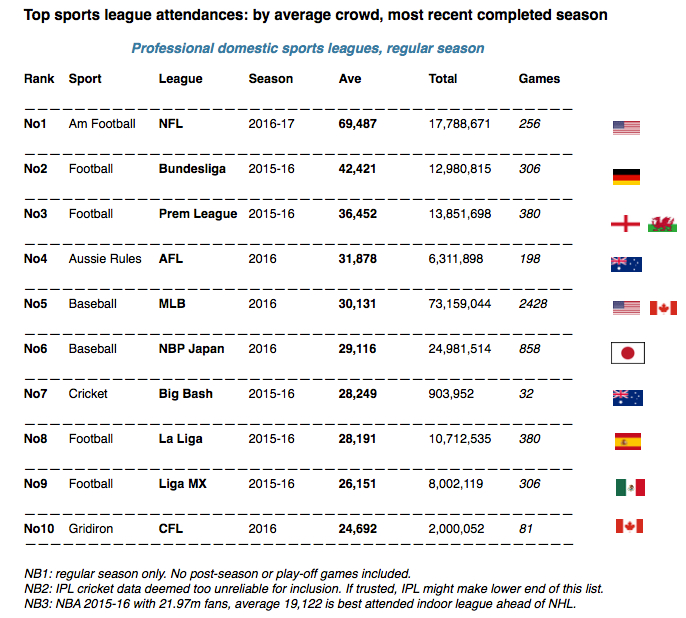 .
Earlier editions of this list
Here are some selected earlier editions of this list to see how it has evolved, and below that a series of sources for the various lists.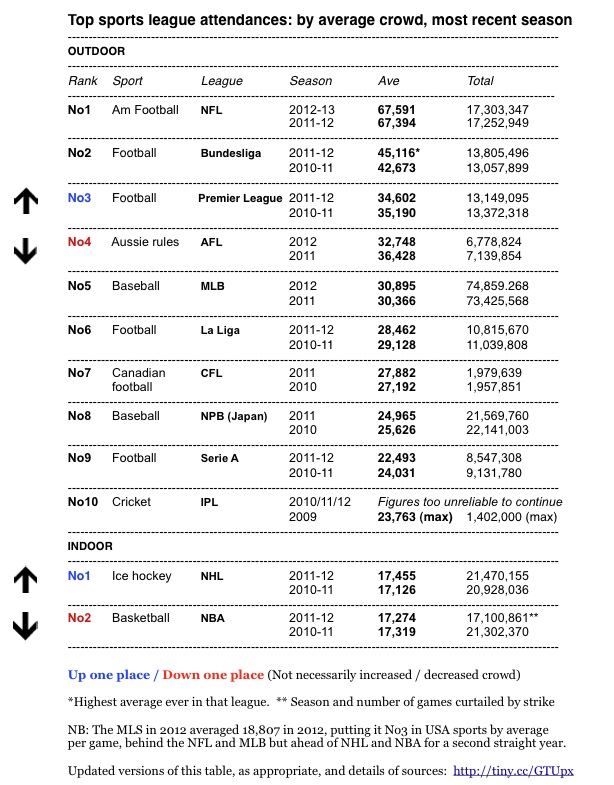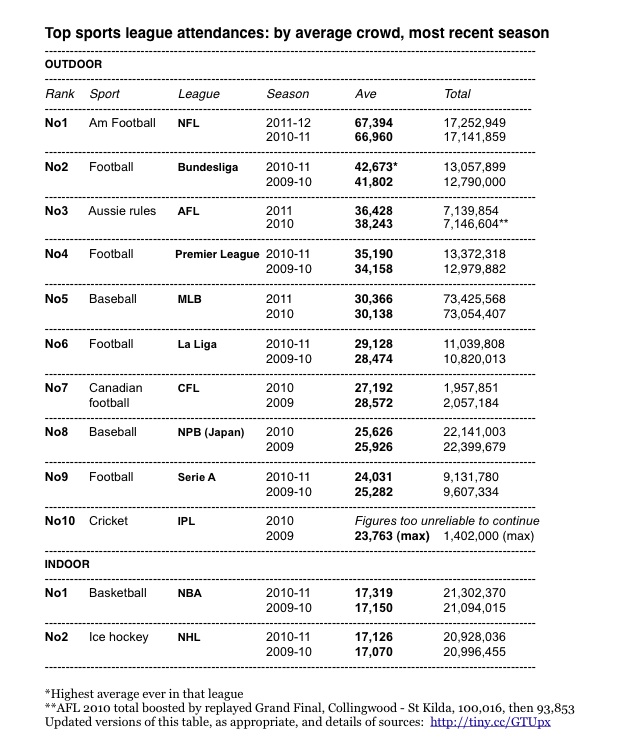 .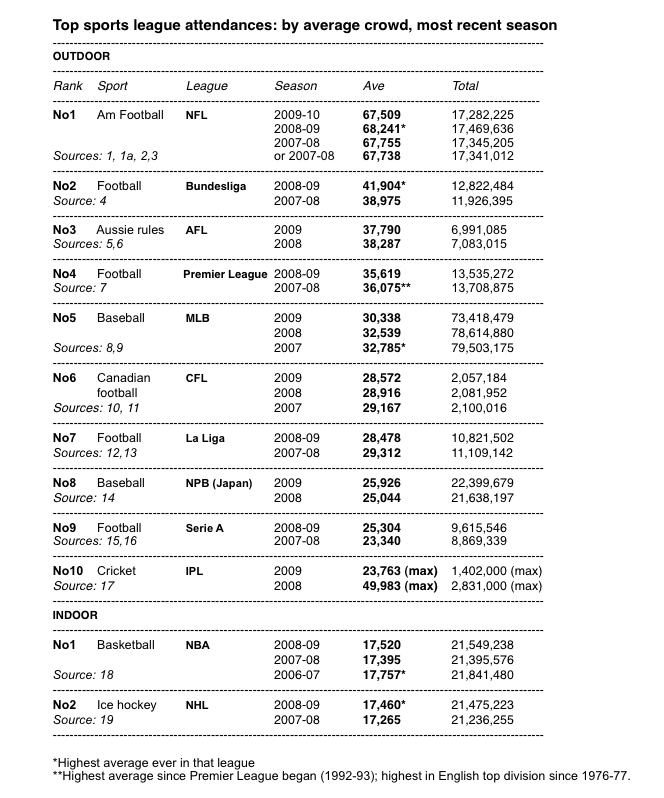 .
Sources
NFL
1: sportingintelligence.com research.
And in previous years ….
NB: Separate official NFL statements about crowds from 2007 contradict each other
BUNDESLIGA
4: http://www.bundesliga.de/en/liga/news/2008/index.php?f=128851.php
AFL
5: http://www.afl.com.au/News/NEWSARTICLE/tabid/208/Default.aspx?newsId=68430
6: http://stats.rleague.com/afl/crowds/summary.html
EPL
7: Brian Sears
MLB
9b: MLB official release of 2010 numbers here
CFL
10: http://www.cfl.ca/article/cfl_attendance_continues_to_rise and for 2011 here
11: plus sportingintelligence.com research
LA LIGA
12: http://www.worldfootball.net/zuschauer/esp-primera-division-2008-2009/1/
13: http://www.worldfootball.net/zuschauer/esp-primera-division-2007-2008/1/
NPB
14: Nikkan Sports, paper edition, 12 October (p.6) & 13 October (p.5) 2009, citing NPB-BIS.
(with thanks to Japanesebaseball for sourcing that, and again for 2010 numbers)
14: The data from 2011 derived from here
SERIE A
15: http://www.worldfootball.net/zuschauer/ita-serie-a-2008-2009/1/
16: http://www.worldfootball.net/zuschauer/ita-serie-a-2007-2008/1/
IPL
17: sportingintelligence.com research
NBA
18: http://www.nba.com/2009/playoffs2009/04/17/attendance/index.html
21: sportingintelligence.com research
NHL
19: http://www.nhl.com/ice/news.htm?id=417969
20: sportingintelligence.com research