By Nick Harris
SJA Internet Sports Writer of the Year
9 September 2012
Isatou Nyang is a single mum of two from The Gambia, a small country in West Africa where the average income is around £1,200 per year, or £23 a week.
Nyang, 28, makes about half that much, or around £10 per week, or £2 per day. She earns her living by asking passers-by for donations, or in other words, begging.
She begs on the forecourt of a petrol station in The Gambia's biggest city, Serekunda. She begs because, as a wheelchair-bound woman, job opportunities are scarce.
She is in a wheelchair because she was born with one short leg, the right one, which has a badly deformed foot, and a left stump.
Quite probably you have never heard of Nyang before, although twice in the past week she has appeared in front of 80,000 people at the Olympic Stadium. She is a Paralympian and she embodies why the Paralympics matter.
Of course those of us who have watched the Games will have been impressed and thrilled to see Oscar Pistorius and Ellie Simmonds, Jonnie Peacock and Sarah Storey, the wheelchair rugby players and their Murderball capers, David Weir and countless hundreds more.
They each have their own humbling stories. They have all overcome hurdles.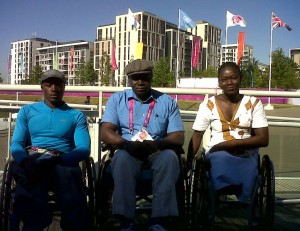 Yet for many others, it remains a struggle to be seen even as somebody who can play any useful role in society – let alone partake in international sport.
Nyang does not consider herself special, or feel she has faced any greater hardship. Indeed she is embarrassed by attention.
But the fact is that in many parts of the world – the poorest parts, where life can be short and brutal even for the able-bodied – to have a major physical disability is to become useless.
'People in The Gambia don't respect disabled people,' Nyang told me when I met her and the other member of Gambia's London 2012 team, Demba Jarju, in the Paralympics village on Friday. 'They think we can do nothing.'
For Nyang and Jarju, 23, who both competed in the T54 100m and 800m events, being at these Games could quite feasibly damage them financially, actually reduce the couple of quid they make each day. (Jarju also begs, in different street markets).
'The Games are a mixed blessing,' Nyang says. 'Our long-term goal is to help improve attitudes and therefore people's lives. But when we go back, we expect the public to think "They've been to London. They must be rich and famous. Why should we give money to them any more?"
Like many Paralympians from the poorest countries, they get little or no state funding, little or no sponsorship, and rely on private donors supporting their Paralympic association.
The Gambia was only able to participate, for the first time, like 14 other debutant nations, because the Games organisers paid for their air fares, covered their village costs, and provided food.
But as the head of their delegation, Sulayman Colley, explained to me, the perception back home is that his two athletes must now be 'rich, and big-time.'
The reality is a little bleaker. By Wednesday Nyang and Jarju will both be begging again in the morning, and then training in the afternoon.
Colley (pictured centre, with Jarju left and Nyang right) has been working to improve the lot of compatriot disabled people since the late 1980s. He considers himself fortunate because he went to school and became an electrician. Though crippled by polio, he can earn money, allowing him to work on a voluntary basis as the president of Gambia's Paralympics association.
Jarju too lost the use of his legs through polio – a preventable illness in countries rich enough to afford vaccines costing a few pounds per head.
'I was 10 years old when I got polio,' Jarju tells me. 'I woke up from sleeping and I wanted to walk but I couldn't. I fell down. I was taken to the hospital. They couldn't save me.'
He is entirely matter of fact. He seeks no pity, no sympathy. He begs because that's what he needs to do.
'It's not easy to get a job when you are disabled in Gambia. There is a stigma.'
The Games, he says, have been an 'eye-opener'. The biggest crowd he's performed in front of at home 'was maybe 15 or 20 people. So the full stadium here was extraordinary.'
He has viewed the hi-tech chairs of many of his rivals with amazement. 'Our equipment isn't great,' he smiles. But he insists that being at the Games 'is good because it shows that we are capable of doing things. In time, we hope attitudes change.'
Colley echoes that. 'Many people in Britain and richer nations won't realise the real power of sport and the Paralympics to disabled people in countries like mine,' he says. 'It's not just about recognition as athletes but as people.'
I ask Nyang what she dreams of achieving. She says she wants to be able to keep sending her two boys, aged four and seven, to school.
I ask Jarju whether maybe he dreams of a job, of a more comfortable life for himself and his girlfriend, Fatou, 19, who works as a maid.
'No,' he says. 'I just want a medal round my neck. Maybe in Rio?'
.
The Gambia Paralympic Association website (via which Colley would be happy to hear from anyone with second-hand or unwanted wheelchairs or other equipment).
.
More stories mentioning the 2012 Olympics / Paralympics on this site
Follow SPORTINGINTELLIGENCE on Twitter