By Nick Harris
SJA Internet Sports Writer of the Year
8 February 2012
Overseas and over here
Landmark dates in the history of overseas players in English football
1892 Walter Bowman, born and raised in Canada, of Swiss heritage, becomes the first foreign player in Football League history, for Accrington. He later plays for Ardwick (Man City).
1908 Max Seeburg, born in Germany, becomes the first European-born foreigner in the League, for Tottenham.
1911 Hussein Hegazi, an Egyptian forward, becomes the first African international in the League, with Fulham.
1913 The Denmark captain Nils Middleboe becomes the first foreign international captain to play in the League, for Chelsea.
1922 International defender Eugene Langenove becomes the first Frenchman to play in the League, for Walsall. France has supplied more foreigners to English football than any other country.
1930 Arsenal try to sign an Austrian goalkeeper, Rudy Hiden, but his work permit application is declined because he is foreign. The FA and PFA adopt an anti-foreigner stance. Arsenal ignore them and sign Gerry Keizer, the League's first Dutchman.
1931 Enraged by Arsenal's approach, the FA introduces a two-year residency rule to thwart foreign professional imports. This effective ban on foreign professionals remains in place until 1978.
1951-56 Six consecutive FA Cup finals graced with foreign players: George Robledo (Chile international, 1951, with Newcastle); George and Ted Robledo (Chile, 1952, with Newcastle); Bill Perry (South African, 1953, scores winning goal for Blackpool in Matthews final); Joe Marston (Australian international, 1954, with Preston); Bert Trautmann (German, 1955 & 1956, with Manchester City).
1956 Trautmann becomes the first foreigner to win the Footballer of the Year award. He is one of numerous foreigners in the ban period (1931-78) allowed to play in England after satisfying long-time residency requirements and/or playing as an amateur for two years before signing professional terms.
1978 The European Community in Brussels decides on 23 February that football associations cannot deny access to players on the basis of their nationality. At its summer AGM, the Football League lifts its 47-year effective ban on foreigners. A "new wave" of imports, including Ossie Ardiles, Ricky Villa, Ivan Golac and Kazimierz Deyna, starts to arrive.
1988-89 Arsenal win the League title without using a single foreign player. They were the last club to do so.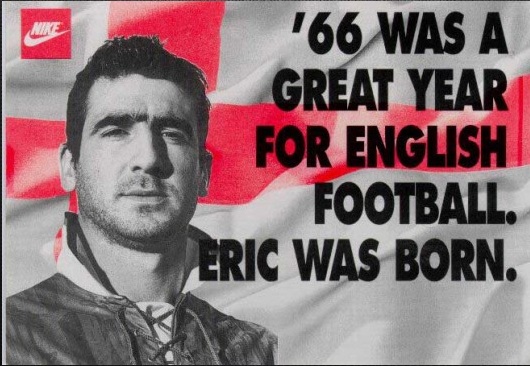 1992 Saturday 8 February. Eric Cantona makes his debut in English football, for Leeds in a 2-0 defeat at Oldham in the top division. Mark Ogden examines the significance in today's Telegraph here. On 6 Dec 1992, Cantona made his competitive Man Utd debut.
1996 Manchester United's Eric Cantona becomes the first foreign national to captain an FA Cup-winning team. Edward Parry, Canada-born but a British citizen, had captained the Old Carthusians to success in 1881.
1997 Ruud Gullit becomes the first foreign manager to win the FA Cup, with Chelsea.
1998 Arsène Wenger becomes the first foreign manager to win the Double, with Arsenal.
1999 Chelsea, under the Italian manager, Gianluca Vialli, become the first club to start a match with 11 foreign players, against Southampton on Boxing Day. They have four English players on the bench.
2005 Arsenal, under Frenchman Wenger, become the first club in League history to field an all-foreign squad with 16 non-British players.
.
More on Man Utd / Man City's foreign players /All-time great foreign players in England / (or search for anything else in box at top right)
Follow SPORTINGINTELLIGENCE on Twitter
Sportingintelligence home page